Logo Branded Highlighters in your hands fast!
Welcome to our Promotional Highlighter selection. We offer great quality logo branded highlighters sold at the lowest prices in Australia. There is no shortage of Highlighters that can be branded with your promotional logo available here in Australia. The shear size of different ranges can be confusing and can make your decision hard. That's why we have concentrated on a smaller range of the best quality, best priced options. All of our highlighters offer you: good design ~ quality manufacture ~ miles of writing ~ low prices.
From the moment you call or send us a
FAST QUOTE REQUEST
we will give you the information and confirmed pricing that you need fast. Our Promo Highlighter experts are standing by and are ready and waiting for your call - simply call us on the number above and let's get printing your pens! All of our pricing shown below includes 1 colour printing and set up costs included.
BENEFITS FOR YOU:
Great
Quality ~
Low
Prices ~ Prices
Include
Print ~
Free
SET UP ~
Fast
Turnaround ~
Australia
Wide Delivery.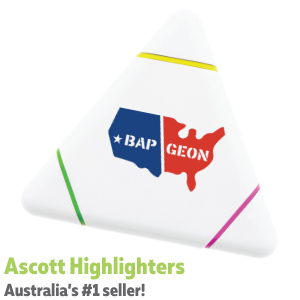 Get Them Fast - Printed With Your Logo
Getting your Branded Highlighter order going fast
Ordering your highlighters is easy, the typical order works something like this:
1/ Call our customer service team on the number at the top of the page with any questions you have.
2/ Confirm pricing by sending us a FAST QUOTE request (you can do this one each product page) 3/ If you need samples we can organise these though if they expensive or you need a few we need to charge for these. 4/ Place your order on our order from linked to on each product page. 5/ We will then email you an artwork proof showing your design mocked-up on a highlighter. 6/ Pay the invoice we send you and then we will print your highlighters as fast as possible. 6/ Out they go - we dispatch all over Australia. That seems straightforward to us - we are ready and waiting to get your Branded and Printed Pens in your hands fast:
The PenPromotions.com.au Team