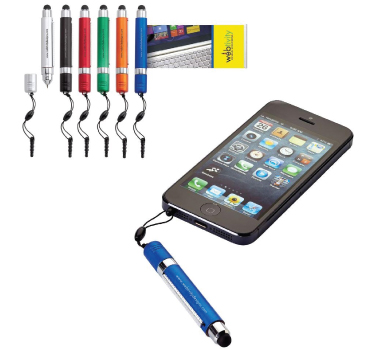 Stylus Banner Pen
The Stylus Banner Pen is small and compact with a phone attachment on one end and the stylus on the other. Simple in nature, but don't be fooled, this mini stylus banner pen still packs a punch in the impact department. Have your brand or message seen by potentionally thousands of people with this popular new item!
Best value pens in Australia: We are one of Australia's most established suppliers of pens so when you make a purchase from us you can buy with confidence. Using our buying power we are able to offer these Promotional Pens at the the very lowest prices whilst still maintaining product quality - we will not substitute our quality pens with lower cost look-alikes as we understand that your marketing and promotion is important!
Production and delivery is usually 4-5 weeks from art approval in most areas - tell us where you need them and when - we will accommodate any reasonable request.
Available Colours
Nib and Trim Stock Colours: Black, Red, Orange, Green, Royal Blue, Silver
Standard Decoration
These plastic pens are costed with full colour on both sides of banner and all relevant set-up costs are included in the pricing you see! Simply send us a 'FAST QUOTE' request. Discounts may be available for your club or charity - please ask.
Ordering Pens
Simply click on the 'Place order here' tab above or call us on the number above.
Organising Artwork and Logos
Art should not be hard and we are here to help! We need to try and find the highest quality art that you have for high quality branding. We usually require AI or EPS formats and can sometimes use PDF files. Call us please, we will explain how it all works, and...don't sweat over art we have graphic artists to do that!
Need to see sample?
Easy, we will send out free ones to a certain value and may have to charge for multiple samples but we can definetly show you samples.
No Set Up Fees Here
We pioneered 'No Set Up Fees' in Australia, it's all included in the price here at PenPromotions.com.au! We believe in transparency at every turn.
Shipping and Freight Costs
Depends on what we are sending and where. Our average order, which is 1000 plastic pens, ships to most areas for $28+GST as a guide though.
Charity and not-for-profit discounts on
We are the value leader in the supply of Pens and as such our prices are already sharp! Having said that we are here to help those that help our communities - if you are a not-for-profit organsition please ask the question and we can often discount, these discounts are usually in the vicinity of 5% or so: please ask us for more information.
Talk with you soon
The PenPromotions.com.au Team