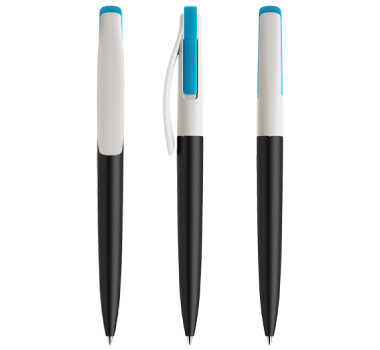 Price Including Decoration
Minimum supply qty is number shown below
Large quantity discounts will apply
Prodir DS2
A slim push button pen with long side wings and an elegantly contoured grip gives these pens a unique, unmistakable look. You have so much customisation with this pen, you will not be dissapointed! Please note pricing varies depending on your choices - talk to one of our account managers for more details.
Preview and customise your pen
HERE
!
Blue or Black ink
Tungsten Carbide ball - superior writing quality
36 standard colours
Available on 4-6 week production.
Plastic
3 Customisation options (Pricing varies depending on your choices - get a formal quote today)
Number of print options - ask us for details
Mix and Match colours within one plastic surface
Packaging also available for an added cost.
Surface Options: Frosted, Transparent, Matt, Polished, Varnished Matt, Varnished Polished.
Nose Cone:
Frosted, Transparent, Matt, Polished, Varnished matt, Varnished polished, Satin finish metal, chrome finish metal.
Available Colours
36 standard colours (Most colours) - Contact us for more details on the colours of the Pen/Button.
Standard Decoration
Costs shown here include a 1 colour print (one position) on a Matt surface/nose cone pen. We can also print these with multiple colours and positions(for an additional cost)
Costs shown here at Pen Promotions INCLUDE logo set up costs.
Please ask us for more information or send us a FAST QUOTE request.
Call us at anytime with your questions or to get your order underway.
Please note: prices are dependant upon currency exchange rates and can vary - Ask for a personalised quote to get exact pricing.
Ordering Pens
Simply click on the 'Place order here' tab above or call us on the number above.
Organising Artwork and Logos
Art should not be hard and we are here to help! We need to try and find the highest quality art that you have for high quality branding. We usually require AI or EPS formats and can sometimes use PDF files. Call us please, we will explain how it all works, and...don't sweat over art we have graphic artists to do that!
Need to see sample?
Easy, we will send out free ones to a certain value and may have to charge for multiple samples but we can definetly show you samples.
No Set Up Fees Here
We pioneered 'No Set Up Fees' in Australia, it's all included in the price here at PenPromotions.com.au! We believe in transparency at every turn.
Shipping and Freight Costs
Depends on what we are sending and where. Our average order, which is 1000 plastic pens, ships to most areas for $28+GST as a guide though.
Charity and not-for-profit discounts on
We are the value leader in the supply of Pens and as such our prices are already sharp! Having said that we are here to help those that help our communities - if you are a not-for-profit organsition please ask the question and we can often discount, these discounts are usually in the vicinity of 5% or so: please ask us for more information.
Talk with you soon
The PenPromotions.com.au Team